@
Interpretation of gEgmonth Overture
@
'PDBefore the interpretation
@I arrange the things that must be done before interpretation. (I quote mainly from a score-commentary of gEgmonth, written by Hiroshi Endo, published from Ongaku no tomo sha corp.)
@
General theme
@The main theme of this work exists in the sympathy with Graf Egmontfs character. He has an indomitable resistance heart that takes root in love to his motherland. And he wanted to bring the matter to an amicable settlement by conference, not by force. He is of a lovable disposition.
@
Meaning of each part
the 1st part introductionF
@It represents Egmontfs fate and outcry of people to save Egmont, etc.
'"he 2nd part 3/4 AllegroF
@It represents pressure and terror, strong faith and character of Egmont, death of Egmont, pure love of Klärchen, etc. Especially, it is said that the end of the 2nd part represents guillotine. Only ‡T&‡U violin play strong high C down to G there.
'"he 3rd part 4/4 Al'Œeg''o con brioF
@It sings spiritual victory after death, and seems to suggest free independence of folkways of het Nederland soon.
@
@There are some important key-words that we should represent in performance.
@the 1st part introduction F gfatehgoutcry of peopleh
@the 2nd part 3/4 Allegro F gstrong faithhgdescription of guillotineh
@the 3rd part 4/4 Allegro con brio F gsing victoryhgfree independence of folkwaysh
@
Characters
@Characters are Graf Egmont, his friend Wilhelm von Oranien, his love Klärchen, Herzog von Alba, and the people. Other characters cannot be specified.
@Graf Egmont, Prinz von Gaure F
He is a hero that the people respect. He is cool, thoughtful and courage to sacrifice himself for his nation.
@Wilhelm von Oranien F
He is a comrade with Egmont. But, he tries to rise in resistance more violently than Egmont.
@Klärchen, Egmonts Geliebte F
She is called by her pet name of Klärchen in the drama. She tries to help captured Egmont bravely. It may be the symbol of respect of general people for him that she is given the role of citizenfs daughter.
@Herzog von Alba F
He is a new governor-general of het Nederland. He is a cruel man and thinks to suppress peoplefs dissatisfaction by force.
@There are people that are suffering from the oppression and rebel against it. There is Egmont that wants to reform peacefully as he appeases the people.
@He presses Alba, but fails. He is imprisoned and is cut by his neck.
@But then people stand up, acquire the independent, and his wish is realized. (This part is suggested in the last of the original work.j
@
'QDInterpretation ithe 1st partj
–j Italics are dynamic and theory in Italian, Germany or French.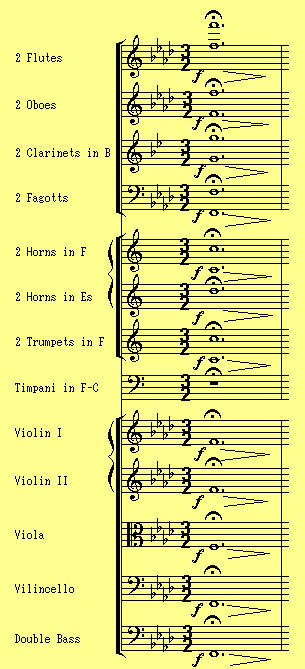 Beginning
@
@
@
@I think there is no need to explain, this impressive beginning differs a little from the same sound of bar 9.
@There is gff h in bar 9, without fermata or decrescendo.
@What do you read from the difference? This thinking is the problem to be mentioned here.
@All knowledge must be mobilized to read this point.
@First, you may be shocked so much if you listen to the beginning with gcommon senseh.
@Some intention can be felt if the beginning sounds by harmony. If it sounds by unison of F like this, you will feel something that peals to your body uneasily. Something special just like the cannon of French army that Beethoven heard.
@When it sounds F once more in bar 9, this time it is heard by gff h nearly than the first time. The volume is kept without decrease and go ahead without stop (without fermataj.
@What is intended here?
@The sound of nature decreases naturally like the sound of beginning. It surprises, but has no message.
@The second time, it is suppose to decrease, but it doesnft.
@Therefore I feel the will that implies strong resistance from the strong sound. This should be the goutcryh of people that the commentator says.
@Of course you need to know the content of drama gEgmonth to lead a conclusion like this. If you perform unknowingly, the first sound doesnft differ much, but the second sound may be similar.
@Then, why Beethoven gvaried ff in bar 9h?
A doubt is left. The origin of the sound has approached, I think.
@Why he gput off fermata h? The first sound is the beginning, so because it starts in a moment, he didnft want make a stream, I think.
@
@
Melody of beginning with marcart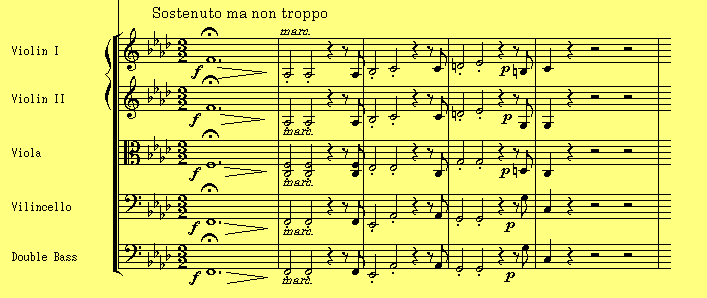 @The motif from bar 2 is half note with staccato, moreover marcart iclearly one by onej is indicated.
@The first motif of bar 2 has no auftact (Gr.). It is quite strong representation. Because it is the reaction of beginning sound, of course.
@That is to say, it may be gthe outcryh of people in anger toward the oppression.
@The second one of bar 3 has auftact of eight note (τ). Itfs not quarter note (?). Therefore the situation is instituted quite acute. The blank of almost one time before τ raises the tension so high. Afterward the variation of the first one makes sure. The third one of bar 4 goes more upward and expands consent of anger.
@But the fourth one of bar 5, gp h is indicated, is concluded by this short one without passing tone. It may mean a doubt gAber (Gr.) ?h like something uneasy. It is proved following. The second time of bar 9 has no gp hafter gff h. It has been already snapped out of it.
@
Motif of fate
@If you perform you can catch a passage of melody every two bars, further every four bars.
@Therefore τ seems to be an ornament of the next tone ione tone at gp hj, the frame impresses to consist of four tones iAσ, C, Eσ, Cj. Seeing that this is gthe motif of fateh, it can be said gabsolute fateh.
@This gmotif of fateh is known as a material of music since ancient. Whether you donft know that, in our gordinary senseh, four times knocks suggest the coming of fate something special. The sun rises gda, da, da, daaanh. One more or less knocks canft make sense. gThe stream of timeh of nature that people canft oppose is four tones.
@It is possible that this part is gthe uprising of Egmonth, but itfs a mistake.
@In the commentary of literature cited, the writer says gGraf Egmont loves the people EEE he overestimates himself and raises an army. But he fails and is captured.h It isnft faithful to the original. Egmont tries to bring the matter to an amicable settlement by conference, not by raising an army. But the governor-general fears his effect on the people, and captures him and executes him.
@So the theme of this music is praise for his reason to try to stand face to face with the authority by conference. He doesnft reflect upon a danger to his life. The praise is not for a hero that tries to confront by force.
@Therefore this part is the voices of Oranien and people that want him to resist by force.
@Itfs Egmont that appeases them. Following, an oboe plays him.
@If you mistake this recognition for characters first, everything shifts.
@The present writer mistook first, the story became inconsistent later.
@,
Melody of woodwind instrument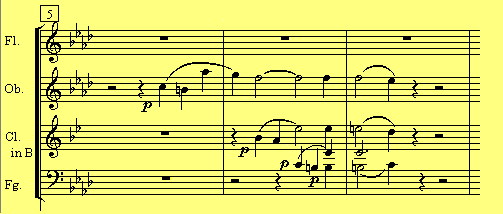 @The oboe starts to play new impressive melody from the middle of bar 5. It includes jumping that shows the strong will which is calm by gp h, however is filled with confidence. This melody is a modification from gIst das (Gr.)?h before it. And it suggests acknowledgment, because it goes down opposite to go upward.
@This part is repeated by other instruments one after another like an echo. It seems to consent of comrades.
@But ‡Toboe acknowledges once, then has gunspeakable uneasinessh. After jumping of minor 7, it is accompanied by appoggiatura of G in the head of bar 6. However this voice canft be caught in many performances because the other voices of consent cover it.
@In the beginning of bar 7, all tones are suspentions except ‡Tfagotto and the expression is same.
@Though in bar 8, consents comes one after another. The repeat by the violin from bar 7 makes the trust towards him deeper, but the uneasy doesnft melt away.
@It can be said that the courage to confront becomes music with mixing uneasy well.
@Beethoven tries to show the meaning with slur over four or five tones here. A period of two tones means consent gyes, yesh, but it doesnft as it includes a large jump.
@It fits ghoweverh of gI think so, however itfs dangeroush, doesnft it?
@
@
Reappearance from bar 9
@The explanation for bar 9 is done with the beginning, so let me go on to bar 10.
@There is a difference here with bar 2. The formation differs and all instruments (except the timpani) perform.
@The first time, they accuse Graf Egmont and he replies calmly.
@They seem to gaccuseh to request some deal after consent here.
@The expression is same with bars 2-3, but there is no gp h part of the question gIst das (Gr.)?h here. The consent is once.
@Itfs exactly. The very same repeat of a conversation that is done yet sounds glengthyh. If there is gp h, it means something special, for example, in the case to explain more for the people that donft understand well. Here it makes the trust between comrades weak.
@The story has gone forward, yet.
@
@