Recording travel photo sketch
2010/5/8-10
Bratislava-Vienna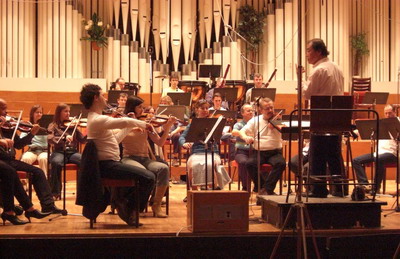 This BGM is the beginning of Overture "Egmont" that we recorded this time.

 The castle of Bratislava is in the left picture. The King of Hungary lived once.

The Philharmonic Hall is in the right. It is a historic structure in Slovak.

It has been reconstructed, and so we couldn't use regretably.

Not to record the sound of tram in front of the hall, it is improved.

 The Slovensky rozhlas is in the left. Recording hall is in the right bottom flat corner. Restaurant is the inner part, pension is behind of it. We stayed there.

The session starts at 9 a.m. So I entered the hall at 8:30 and was surprised.

No one informed me the starting was delayed for 30 minutes. What's this? It's a look at 9:20. ???⇒

 I had a consultation with concert master Mr.RUZICKA. He came first.

Members appeared one after another.

They might despise me a little, as in the afternoon session they came quite early
and began to practice.

He is the manager Mr.Pavel HRUBY in the right.

 Now, let me introduce the recording staff.

From left,
my respectable clarinet player Mr. Takuhide MIZUHARA. He is also a supervisor.
The most reliable interpreter Ms.Kinga VALENT.
Producer of Slovak Radio/Mr.Emil NIZNANSKY, engineer/Mr.Hubert GESHWANDTNER.
Recording adviser of NKB, engineer/Mr.Teruo MURAKAMI.

 Well, practice and practice.

No one likes to practice, but once it starts enthusiasm is on the increase.

Everybody playes hard.

 I'm not so good at linguistics, so I repeated the same request anyway.

Is it uncommon?

In the end,
I do the same manner as usual.

 In the meantime, we repeated practice, recording,
and amendment all the first day long and finished.

The next day, we repeated the same way in the morning.

In the afternoon, we recorded "Egmont" first and whole "Pastrale" next.

The last throught performance was so neat one.

The next day of recording.
We went to Vienna that "Pastrale" was born for a walk in the woods of Heiligenstadt.
Vienna travel photo sketch
click here
Photo by
Teruo MURAKAMI
Takuhide MIZUHARA
Noriaki KITAMURA