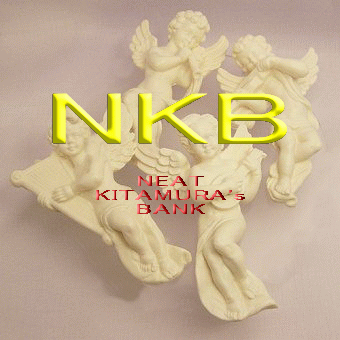 ---

The Second Album@
Beethoven Symphony No. 7
Johann Strauss II gEmperor Waltzh
ConductFNoriaki kitamura
OrchestraFthe Slovak Philharmonic Orchestra
Recording placeFSlovak Bratislava Slovak Radio Hall
Recording dateFNovember 20`21 2010
@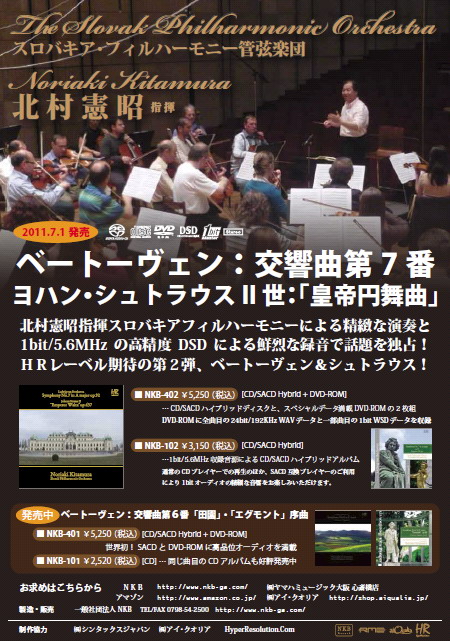 @
used score F BÄRENREITER URTEXT TP907@iSymphony No.7 in A Major op. 92j
@@@@ @@ BREITKOPF & HÄRTEL igEmperor Waltz h op. 437j
recording sound source F It was recorded to the most up-to-date model i1bit recorder of KORG Co.j by Japanese engineer Mr. Teruo Murakami.
* homepage of recording engineer Mr. Teruo Murakami F http://www.mu-s.com/
@
Conductorfs comment
@Also this time I used the score of above URTEXT ithe original text editionj for Beethoven. As a matter of common sense in the present, I made an effort to meet the composerfs aim as possible as I could. I used the general score for gEmperor Waltzh.
@The point that differ with the score is tempo as the same as the first album.

@I have some doubt about the tempo that is written by Beethoven himself essentially. I have claimed there were problem of graduation of metronome in those days and it is fast about 10 %. Therefore the tempo that suits to my thought is standard. But the most important aim of my performance is neat one of neat sound. Itfs no problem to be influenced by the present situation, I feel. On the whole, the tempo resulted a little slow.
@I made no alteration else insistently this time.
@I don't stick to this place for recording of Symphony No. 7 as much as the last recording of gPastoralh.
@When I perform the music of Beethoven I only notice gthe period style of renditionh. It is a historical style and becoming the common sense around Europe etc. these days. And the traditional style of this area is approximate to it.
@For example, in many cases people usually play stringed instruments with no vibrato in this area. Once it was usual in Vienna, too. But it changed much these days.
@I didn't give instructions especially, but they performed with no vibrato fundamentally. Of course wind instruments were played the same way.
@Especially they were through in the second movement. And I hoped, too.
@There is a great difference between doing under conductorfs instruction and doing willingly.
@According to that, the sound of non-harmony (discordance) and itfs solution (entension resolve) are showed clearly and the ensemble is very wonderful.
@It is proof of the high ability of ensemble of this orchestra.
@I was satisfied with the result so much.

@The reason why I chose Johann Strauss II gEmperor Waltzh for coupling is that Bratislava is the most nearest city from Vienna. It holds this orchestra and just about 70 km away.
@It may be said that these are in the same culture area. Indeed, New Year Concert is held every year in this city and waltz and polka of Strauss are performed.
@Moreover, though it is not announced officially so, many players take part in the members of orchestras that come to Japan every New Year. The names of orchestras have Vienna so and so and perform waltz and polka.
@I dare to advocate for their honor, they were also Austria-Hungary in those days. At present, the Vienna Philharmonic Orchestra and so have an enrolment of people of this land. They are friends of Vienna (I donft know whether they are members of Musikverein or not).
@When you hear this elegant performance you will understand that they perform waltz as same as Vienna.
@I feel more yearning rather than present Vienna.
@
@Well, I was also accompanied with recording engineer Mr. Teruo Murakami from Japan.
@Needless to say, the first recording was so wonderful. And I thought that he is the only one who can recognize my aim and can capture the neat sound created fully in the space.
@I requested only one point this time.
@The mike was set at the same position as the last recording, but there were somewhat incomplete sound in gPastoralh.
@I didnft feel that while I conducted.
@I thought it might be caused by setting of mike.
@Members of orchestra sit apart around wide space. Difference in time has come out from corner to corner.
@Players of orchestra perform as they revise the time lag.
@Therefore difference comes out when performance is recorded by nearby mike. The timing is so delicate.
@I had misgivings about it might proved fatal to No. 7 especially to III and IV movements.
@I asked to make up countermeasure for it. It was perfect.
@I think it was a big virtue of introducing deep sound of strings of this orchestra also this time.
@I also think it was a big success of recording the elegant and naive music of this orchestra by gEmperor Waltzh.
@I would like to take this opportunity to express my appreciation to members of the Slovak Philharmonic Orchestra, manager Ms. Tatiana Schoeferova, Mr. Pavel Hruby, and interpreter Ms. Kinga Valent. She took care of us well during our stay. I would like to thank engineer Mr. Hubert Geshwandtner and producer Mr. Emil Niznansky of the Slovak Radio. I deeply thank recording engineer Mr. Teruo Murakami who has been with me from Japan. They made every effort for the recording. I would like to give my best regards to people that support this project, Mr. Mitsuaki Kukita that is auditor of NKB and handled general office work, Ms. Hiromi Kitagawa that is manager of NKB and treats general financial affairs, puts documents into English, and negotiated with Slovak side, and Mr. Takuhide Mizuhara that is vice-chief manager and supervisor of NKB.
Conductor Noriaki Kitamura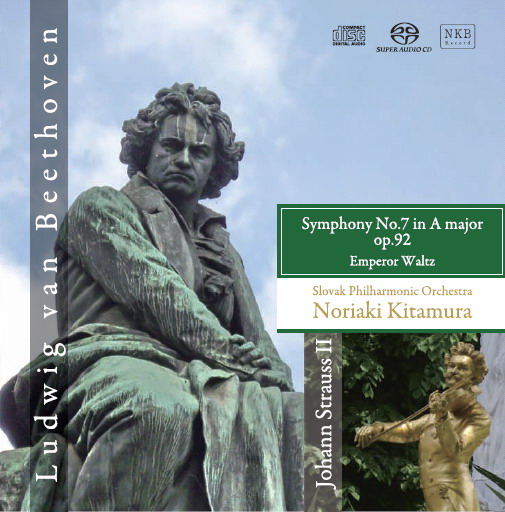 #102
@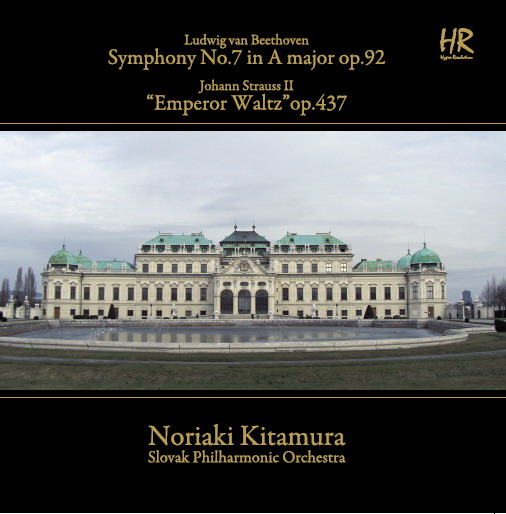 #402
There are two media of recording this time.
Above #102 is SACD/CD Hybrid Disc.
You can listen by usual CD player and enjoy more high quality sound by SACD player.
3150 yen (includes tax)
Bellow #402 is a set of two discs.
SACD/CD Disc
and DVD-ROM Disc of WAV data (24 bit/192 kHz) and WSD data (1 bit) of a part
5250 yen (includes tax)
@
Schumann Symphony No. 1 gSpringh and No. 4
Noriaki Kitamura conduct, Moravian Philharmonic Orchestra
was re-mastered by CD recording engineer Mr. Teruo Murakami.

1575 yen (includes tax)
@
š@order š
Please write your address, name, telephone number and number(s) of order for
#102 Beethoven No. 7 SACD/CD - disc(s)
#402 Beethoven No. 7 SACD/CD•DVD-ROM - set(s)
@#301 Schumann - disc(s)
then please mail to
@
'@you can get at the store bellow@'
τYAMAHA MUSIC Co. Osaka Shinsaibashi Storeτ@
@§'T'S'Q|'O'O'W'T@
'Q|'W|'T Shinsaibashi-suji
Chuuou-ku OSAKA
@TELF'O'U|'U'Q'P'P|'T'R'U'O@
@FAXF'O'U|'U'Q'P'P|'W'O'O'S
MAILF@nkbankga@yahoo.co.jp
copyright 2010 NKB gen. as. All right reserved
@
@