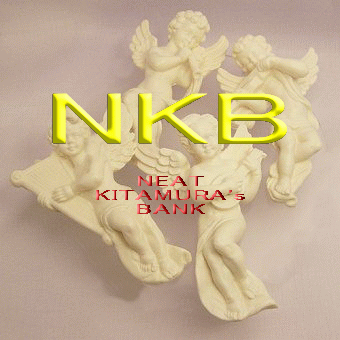 ---

BeethovengLeonorehoverture No.3 op.72
Beethoven Symphony No. 9 D Minor op.125
ConductFNoriaki kitamura
OrchestraFthe Slovak National Symphny Orchestra
Slovak National Singing Choir
Eva Hornyáková - soprano Elena Shatokhina - mezzo soprano
Pavol Oravec - tenol Peter Mikuláš - bass
Recording placeFMusikverein Grosser Saal in Wien
Recording dateFNovember 20 2020
@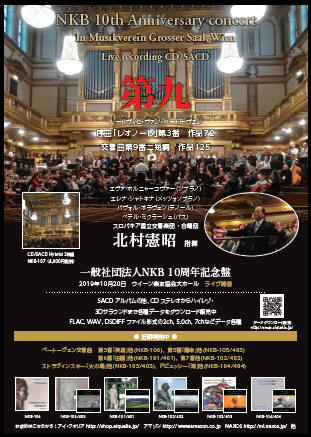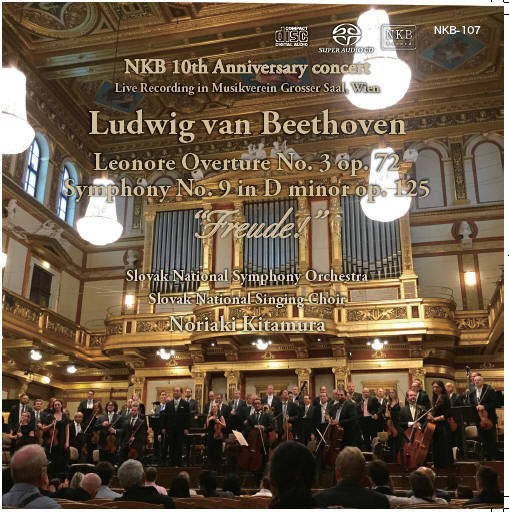 used score F BÄRENREITER URTEXT TP907@iSymphony No.9 in D minor op. 125j
@@@@ @@Slovak Filharmoni's Archiv igLeonore h overture No.3 op. 72)
recording sound source F It was recorded to the most up-to-date model i1bit recorder of i-Quolia Co.j by Japanese engineer Mr. Hiromichi Aikawa
* homepage of recording engineer
Conductorfs comment
I made every effort to follow the composer's intent, as the same as my previous performances.
We used BÄRENREITER URTEXT (original version) TP909 for Symphony No. 9. This time, however, the orchestra used their old version and players corrected partly with reference to the URTEXT. So it was not the same completely.
We used parts of the Slovak Philharmonic for "Leonore" Overture No.3.
I corrected partly with reference to the BÄRENREITER URTEXT BA8833.
Detailed comments are omitted, since the issues and intentions of the score are the same as before,
There is no particular reason why I selected "Leonore" Overture No.3, because it is a well-known masterpiece. I noticed its higher completeness as a stand-alone work than the opera "Fidelio" and other "Leonore" overtures.
The description of the scene in which Leonore enters the underground jail at the beginning was become slightly brighter, because of my own exhilaration that came from my deep emotion at the first wonderful sound of that Golden Hall. I regret a little.
I think that Fidelio's reunion etc. I could have drawn well.
We recorded the concert in tThe Musikverein Grossersaal as the 10th anniversary of NKB live. The theme of this recording is "Freude". It is joy the same as the theme of the symphony no.9, too. I tried to draw each joy differently. In other words, reunion of a couple and liberation for "Leonore", Creation for symphonyfs 1st movement, explosion of life for 2nd movement, affection for 3rd movement and peace and friendship for 4th movement are that I emphasized as the composerfs intention.
Symphony No. 9 is a work that I played many times. Through my experiences; organized from minimum to maximum, the choir number was a little too much and the balance was broken slightly, but I am convinced that it is the best of mine.I think the number of choir is desirable to be strings.
This symphony is a work that is different from other eight ones, but it is just typical Beethovenfs. And it is his culmination with no doubt. I think that he had a desire to write like Haydn's "Creation" in his vision.
1st movement, especially the beginning, makes it emphatic. And not only that, but also the whole composition also contains such thoughts, I think. It is no doubt that there is full of "Freude". Just like Haydn's work, it is full of joy.
2nd movement is performed with long repeat in the middle that is rarely in general. The most impressive timpanifs motive is usually played p for the fifth time, but I remained f as per the score. I think only Otto Klemperer played f. This part does not be described p in any score, including autograph. It is maybe a custom from the past. guess it probably followed the Furtwänglerfs performance. No one would have been able to offend his way of performance. It is the time to break that spell, isn't it? I think Beethoven is absolutely correct.
3rd movement is a bit squeezed. The 2nd movement of "Pastrale" is reminded. But it's a bittersweet memory not like it used to be sweet in gPastraleh. And it goes happier gradually, while holding loneliness at last.
4th movement is a symphony and not a vocal song, otherwise this movement might be a cantata and impress independently. This time, the choir should have been a little smaller, I think.
Lyrics dominate the song. However, we can understand composerfs feelings better in the instrumental music alone. I think that just the music of instrument may be able to make a good finale.
Anyway, this choir and the orchestra, combined with the sound of the hall, could produce a very fulfilling sound.
<![if !supportLineBreakNewLine]> conductor Noriaki Kitamura<![endif]>
@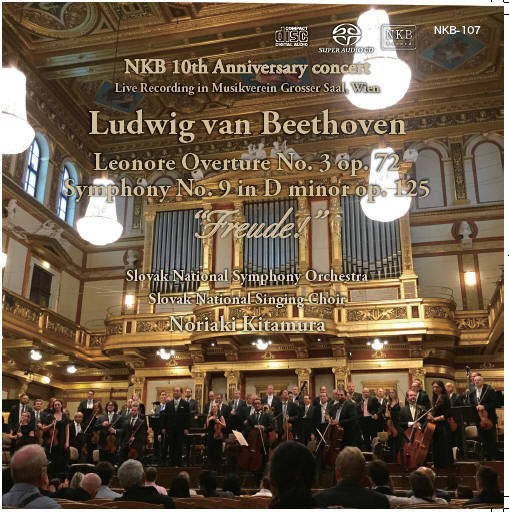 NKB-107
@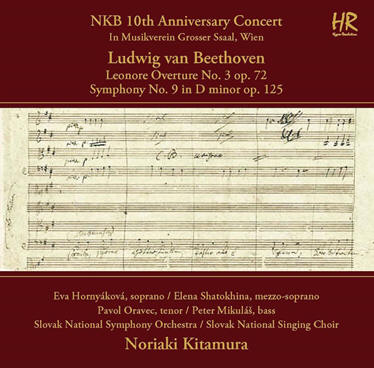 NKB-507
There are two media of recording this time.
Above #107 is SACD/CD Hybrid 2Discs.
You can listen by usual CD player and enjoy more high quality sound by SACD player.
4000 yen (+ tax)
Bellow #407 is 7&5 ch. soround, stereo and rear stereo-maic. of DSD data.
for sail by aiquaria shop
@
š@order š
Please write your address, name, telephone number and number(s) of order for
#102 Beethoven No. 7 SACD/CD - disc(s)
#402 Beethoven No. 7 SACD/CD•DVD-ROM - set(s)
@#301 Schumann - disc(s)
then please mail to
@
'@you can get at the store bellow@'
@
MAILF@nkbankga@yahoo.co.jp
copyright 2010 NKB gen. as. All right reserved
@
@